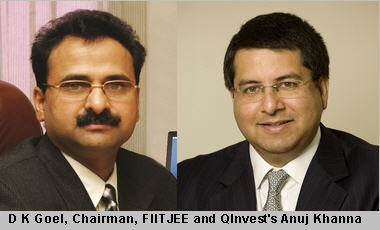 QInvest, Qatar's leading investment bank, has acquired a stake in FIITJEE Ltd, India's leading test preparation company for engineering and medical entrance examinations. Neither the acquisition cost nor the stake acquired is disclosed.
VCCircle had recently reported that the Delhi-headquartered company was raising another round of private equity including a partial stake sale by promoters. In July 2009, the company had raised Rs 100 crore from Matrix Partners.
FIITJEE was founded in 1992 by Dinesh Kumar Goel initially to train students for competitive entrance examinations for prestigious Indian Institutes of Technology (IITs). Currently, the company has over 30,000 students enrolled in its coaching programs across 50 centers and 35 integrated school programs in India and the Middle East.
FIITJEE recently expanded its programs to include training for SAT, Olympiads and National Talent Search Examination (NTSE), a national level scholarship program in India to identify and nurture talented students.
Commenting on the deal, Dinesh Kumar Goel, Chairman of FIITJEE, said: "Partnering with QInvest will help FIITJEE establish a stronger presence in the Middle East."
Anuj Khanna, Head of Investment Management at QInvest, said: "The test preparation market in India is estimated to be approximately $2billion and is growing at a rate of 15-20%."
This is the third deal of QInvest in India. In February 2010, Qinvest picked up 25% in investment banking and broking firm Ambit Corporate Finance for Rs 250 crore. In November 2010, Asian Business Exhibition & Conferences Ltd (ABECL) raised an undisclosed amount in exchange for 28% stake from QInvest.