Private equity and venture capital deals related to India have hit a record high with the number of transactions in the first nine months of this year already surpassing the previous best in any calendar year.
Led by hectic activity in early-stage deal-making that comprised over four-fifths of the number of private investment transactions, investors signed a cheque almost every seven hours, according to data compiled by VCCEdge, the financial research platform of News Corp-controlled VCCircle Network.
In total, private investors comprising angel investors, venture capital and private equity funds have announced investments worth $14.2 billion spread across 928 deals in the first nine months of this year, reveals VCCEdge Deal Report for Q3 CY2015. The deal value includes acquisition of overseas assets of Indian firms by private equity firms as well as secondary transactions where one PE firm buys stake of another. Hence, this aggregate number does not entirely represent the value of fresh investments in Indian companies.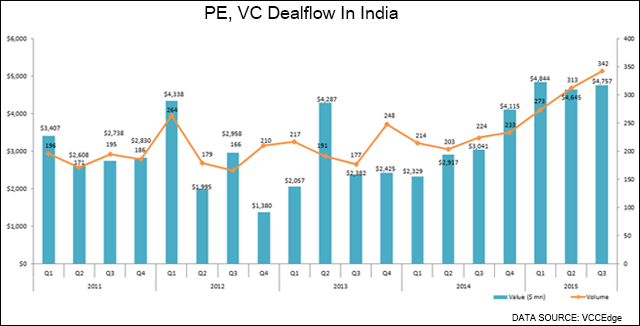 The deal value, which also excludes debt style private equity deals in real estate, is almost one-third higher than the previous high of $10.74 billion seen during the first nine months of 2008. The previous bull run in the stock market ended in January 2008 but several previously sealed deals had rolled over from 2007 and kept the deal counters buzzing even as companies and valuations collapsed left, right and centre.
Year 2007 was the previous landmark year for private investments in India with $18 billion worth of deals announced spread across just under 700 transactions. Indeed, if the deal-flow is anything to go by, 2015 won't just be the biggest year for number of private investment deals but also a record year in terms of quantum of investment (click here for our previous report for the first half that first indicated how 2015 will mark a new high of PE and VC funding in India).
The quantum of investment has jumped more sharply compared with last year when firms announced investments worth $8.2 billion.
Investments of at least $4.7 billion—the transaction value of some deals stands undisclosed—spread across 342 deals, were made in Q3 CY2015 alone—an increase of 53 per cent in deal volume and 56 per cent in deal value compared with deal-making in the quarter ended September 30, 2014.
Highlights
* Big-ticket deals ($100 million and above) constituted just under 
two-thirds of the total private capital invested in Q3 CY2015.
* Consumer discretionary, financials, IT, healthcare and utilities were the top five sectors to attract significant private capital last quarter.
* India's financial capital, Mumbai, continues to be a hotbed for M&As as well and private investment activity in the country, followed by Bengaluru and New Delhi.
* PE and VC firms, however, slowed down the momentum on exits by halving their sale of past investments, tracking the sharp correction in the stock market. The value of such exits dipped even further to $487 million during the same period.
* The value of angel and seed investments grew over three times to $94 million spread across 166 deals with the deal volume more than doubling over Q3 2014.
* Venture capital funding too saw an upswing with 114 deals last quarter with an announced value of $1.42 billion, up from the $590 million seen in the corresponding quarter last year.
* Deal volume declined across both domestic and cross-border M&As, with inbound deals shrinking by as much as one-fifth. Aggregate M&A deal value, on the other hand, grew by almost one-third, driven by almost a five-old rise in outbound deals or overseas acquisitions announced by Indian companies in Q3, over the year-ago period.