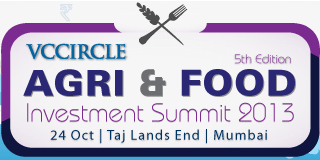 The fifth edition of VCCircle's Agri & Food Investment Summit will host a special session, VCCircle Showcase, which will recognise the most innovative agri & food companies in India. The summit will be held on October 24 at Taj Lands End, Mumbai.
With a focus on specific sub-sectors, VCCircle Showcase will feature two notable companies from each of these categories: 1) Farm Inputs (Seeds, Fertilisers, Irrigation & Farm Equipment), 2) Agri-Infrastucture and Supply Chain Logistics, 3) Primary Processing (Food Commodities, Dairy & Poultry) and 4) Processed Foods, Food Service and Retail. Representative of each company will speak for five minutes (there will not be any presentations) on its products, differentiated market strategy and how it will disrupt existing ecosystem to create value. 
If you'd like to apply for the Showcase session or nominate a company, write to us at komal.shah@vccircle.com.
The summit will bring together more than 200 CEOs representing India's top and emerging food and agri companies, innovators and  bankers, in addition to leading institutional and private equity investors betting on the sector. It will provide a platform for next big Indian companies in the food & agri space. For more details, click .
SPEAKERS
Aditya Bafna - Executive Director, Shree Shubham Logistics
Aditya Bagri - Director, Bagrrys India Ltd
Akshay Bector - MD, Mrs. Bector's Food Specialties Ltd
Amith Agarwal - Director, Star Agri Warehousing & Collateral Management 
Bhupinder Singh - CEO, Vista Processed Foods Pvt Ltd
Divyarth Kumar - Director, Shakti Bhog Foods Ltd
K Vijayaraghavan - Cornell University
Karan A Chanana - Chairman, Amira Foods
Kiran Salunke - MD, Siesta Logistics Corporation Limited
Mayank Jalan - MD, Keventer Agro Ltd
Murali Krishnan - CEO, The Nilgiri Dairy Farm Pvt. Ltd
Neeraj Kakkar - CEO, Hector Beverages Pvt. Ltd
Purvin Patel - Business Head, Radhakrishna Foodland Pvt Ltd
Rahoul Jain - MD, Capricorn Food Products India Ltd
Rahul Raisurana - MD, Standard Chartered Private Equity
Rajesh Srivastava - CMD, Rabo Equity Advisors Pvt Ltd
Rajeev S Samant - Founder & CEO, Nashik Vintners Pvt. Ltd
Sanjay Sacheti - Country Manager, Olam Agro India Ltd
Sonal Shah - Director, SMC Capitals Ltd
Tejpavan Singh Gandhok - CEO, Om Pizzas and Eats Pvt. Ltd
..more speakers are joining.
For registrations, write to kanika@vccircle.com or call 0120-4171111 
For sponsorship, write to: varun@vccircle.com or  vijay@vccircle.com. 
For suggesting agenda/nominating speakers, write to ben@vccircle.com.