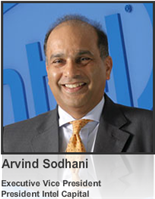 Intel Capital, the corporate venture capital arm of chipmaker Intel Corporation, has invested a series A funding of $3 million in Bangalore-based online video startup Althea Systems. The deal, announced at the 11th Annual Intel Capital CEO Summit in Huntington Beach, California, is part of the $77-million funding across 18 startups announced today. Intel Capital has invested $247 million in 2010 across various sectors.
Announcing the investment, Althea Systems said, in a statement, the funding will help the company expand its development team and marketing efforts for its online video products. The company launched the PC version of Shufflr – a social video browser – in July 2010 and has plans to launch on other platforms including TVs, tablets and mobile phones. 
"We are delighted to have Intel Capital as an investor as we continue to deliver on our roadmap in the social video discovery space. This round of funding reinforces our belief in a cloud-based social video discovery platform that delivers a seamless viewing experience across notebooks, TVs, tablets and other CE devices," said Vinod Gopinath, Founder and CEO, Althea Systems, in a statement.
"We believe that the online video industry is poised for growth in the coming years and personalized viewing experiences based on a consumer's profile will be a differentiator in this space. This investment in Althea Systems is in line with our commitment to investing in new and commercially viable technologies," said Sudheer Kuppam, Managing Director, India, Japan, Australasia and South-East Asia, Intel Capital.
Intel Capital has also made a follow-on investment in Noida-based Wortal Technologies, which runs local events portal BuzzInTown.
It has also invested in Internet TV platform firm Verismo Networks and video advertising technology company YuMe. Both of these companies, while headquartered in the US, have offices in Bangalore (Verismo) and Chennai (YuMe).
Other new investments include Adaptivity, Anobit, boo-box, De Novo, IPTEGO, Layar, Lilliputian Systems, Inc, Ortiva Wireless, Rock Flow Dynamics, Select-TV, SilkRoad, Taifatech, Videon Central, Winchannel and Yummly.com.
Exits Gain Momentum
Intel Capital also said that it had 28 exits, including IPOs, from portfolio companies this year, which is one of its highest. Some of its portfolio companies in India which went public this year include Pune-based Persistent Systems and Infrasoft Technologies (123greetings.com). One of its portfolio firms, mobile VAS services player One97 Communications, has already filed a red herring prospectus.
The venture capital firm has had a busy year in India in 2010 having already invested in companies like KLG Systel, Multi Commodity Exchange and July Systems Inc. It also invested in Allied Digital Services Ltd, a remote infrastructure management company, last month.
Tech Advantage
"Despite the economic environment, these 18 investments help advance next generation computing technologies aligning with Intel's vision that more and more devices will compute and connect to the Internet, called the 'compute continuum'. The innovative technology developed by these companies supports the compute continuum from advancements in PCs and server trends, such as cloud computing, to building out the ecosystem around smart TVs and smartphones," said Arvind Sodhani, president of Intel Capital and Intel executive vice president.
Sodhani added that 2010 has seen robust growth in technology and the sector has been the driving force of economic recovery. Sodhani said that we are entering a golden age of technology innovation with opportunities in developed and developing economies. While as the growth in developed economies has become slow or non-existent, consumers are focusing more on savings and deleveraging. This encourages companies to come up with innovative devices in order to get the reduced consumption dollars.
Similarly, as emerging markets continue their rapid economic growth, more and more of the middle class will start buying their first technology products. These products will have to be tailored according to local culture and needs, which will further help growth of innovation.
(This correspondent is attending Intel Capital's 11th Annual CEO Summit in Huntington Beach, California, at the invitation of Intel Capital)