The organised café market in India, which grew almost six fold in the last five years to $230 million currently, is likely to hit $410 million by 2017, maintaining a compounded annual growth rate of 13-14 per cent, according to a report by consultancy firm Technopak Advisors.
Café business comprised some 11 per cent of total organised food services market in the country as per the report.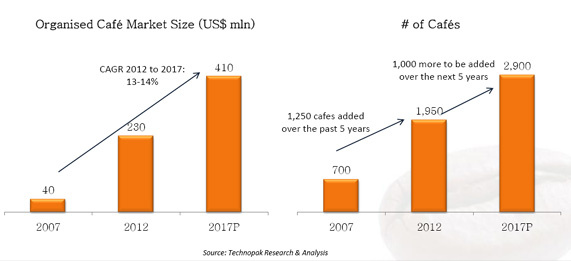 It added the number of cafés have risen from just 700 in 2007 to 1950 currently and the country is expected to add some 1,000 outlets more in the next five years.
"The overall pie in the cafe market is expected to grow as players like Starbucks and Dunkin Donuts enter the country. At present, CCD has the highest market share with 1,350 stores and Barista has 318 stores. There is enough space for all the other players to grow apart from CCD," says Pratichee Kapoor, associate vice president, food at Technopak Advisors.
The growth is expected to come from non metros and smaller cities to a large extent. "International chains like Gloria Jean's, Costa Coffee and Coffee Bean & Tea Leaf have a limited footprint in metro and mini metro cities. Even Dunkin' Donuts is a recent most entrant, having launched its cafés in 2012," says Kapoor.
As competition increases, most of the coffee brands will have to play up their marketing and branding strategy. And the action has already started. "Many brands are experimenting with offerings of food and beverages –and with other items such as desserts and bakery. Customisation is being done according to regional taste palates, locations and meal times (breakfast items introduced for working professionals)," said Kapoor.
While some of the coffee chains present in India are part of international chains, few like the parent of Café Coffee Day has already attracted private equity interest.
(Edited by Prem Udayabhanu)