In what may provide some relief to its exchequer, India is set to import the first tranche of urea for financial year 2017 at a cost lower than the average price last year.
The government plans to import 600,000 tonnes of urea, the most commonly used fertiliser, for financial year 2017 at a price of $227 per tonne compared with an average price of $279.02 per tonne during the last financial year. State-run Metals and Minerals Trading Corporation of India (MMTC) will be the importing agency for this tranche on behalf of the Indian government.
This comes at a time when the Bharatiya Janata Party-led government plans to implement direct benefit transfer of fertiliser subsidy on a pilot basis in selected districts across the country. Urea price in India is controlled and is currently sold at a fixed price of Rs5,360 per tonne. The industry is compensated in the form of subsidy for the difference between production cost and selling price.
"The tendering process is over and imports will be done primarily from Iran and China," said a senior government official requesting anonymity.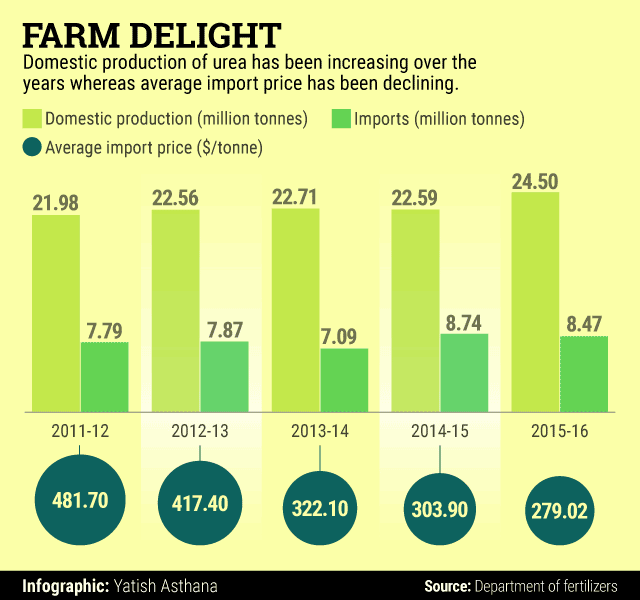 Any savings will help the government which has made a provision of Rs70,000 crore on account of fertiliser subsidies in the Union budget of 2016-17. Nearly 73% of this amount was allocated to urea, accounting for the second largest subsidy after food.
The first consignment of urea will reach the country within one-and-a-half months, said another government official, who also did not want to be named, aware of the development. 
The National Democratic Alliance is trying to ensure a smooth supply of fertilisers to farmers and has put the rural economy as its prime focus given two successive years of drought. According to the current practice of urea import, it generally takes 60-70 days for urea to reach consumer centres once the fertiliser department decides to import.
"This year imports will be far lower as we have sufficient local production," the second official quoted above said.
India's annual demand for urea is around 31 million tonnes (MT). The country witnessed a record production of 24.5 MT of urea for the financial year ended 31 March 2016. Due to an increase in the domestic production, urea import in the country during the last fiscal came down by around 3.4% to 8.47 MT compared with 8.75 MT in 2014-15.
Queries emailed on 2 May to the ministry of chemicals and fertilizers and MMTC remained unanswered.
Even if India achieves the same production level of urea as witnessed in financial year 2016, given that demand is around 31 MT, it is expected to import around 6.5 MT of urea for financial year 2017. A back of the envelope calculation shows that if urea prices remain at the same level, the government will save at least $300 million in the current financial year.
While addressing a press conference in New Delhi on 31 March, Union minister for chemicals and fertilizers Ananth Kumar had said that the additional production of urea in the last financial year has not only helped in saving foreign exchange but also in import substitution.
Analysts believe that the price at which urea imports are being done is fairly reasonable.
"Urea prices have recovered from the earlier price of $200 during end of last year and so the price of $227 per tonne seems reasonable. There is an upward pricing risk going forward if oil prices go up, which may lead to increase in gas prices," said K. Ravichandran, senior vice-president and co-head, corporate ratings, Icra Ltd. Gas is a critical component used in the production of urea.
At present, three state-run firms—State Trading Corporation of India, MMTC and Indian Potash Ltd—are allowed to import urea. Moreover, these importing agencies are given instructions by the government for the quantum and timing of import.
VCCircle on 30 March reported that the government has set up a committee led by Amitabh Kant, chief executive officer of Niti Aayog, to give recommendations on de-canalising urea imports which will allow more firms to import urea.