India's economic growth accelerated in the July-September period, thanks to higher farm output, but the government's cash crackdown that has crimped consumption could hurt the pace of expansion in coming quarters.
Gross domestic product grew 7.3% in the second quarter of 2016-17 from 7.1% in the previous quarter, the Central Statistics Office said in a statement. The acceleration comes after expansion slowed low in April-June from the 7.9% pace in the January-March quarter.
Agricultural output in the July-September period rose 3.3% from 1.8% in the April-June period. This helped offset a slowdown in manufacturing where growth fell to 7.1% from 9.1%.
Production of electricity and other utilities rose 3.5% in the three months through September, sharply lower than the 9.4% pace in April-June this year. Mining output shrank 1.5% after a 0.4% contraction the previous quarter.
Growth in gross value added—an input of GDP that the central bank monitors—slowed to 7.1% in the second quarter from 7.3% in the previous three months. This indicates full-year growth in GVA could fall below the Reserve Bank of India's 7.6% estimate for 2016-17.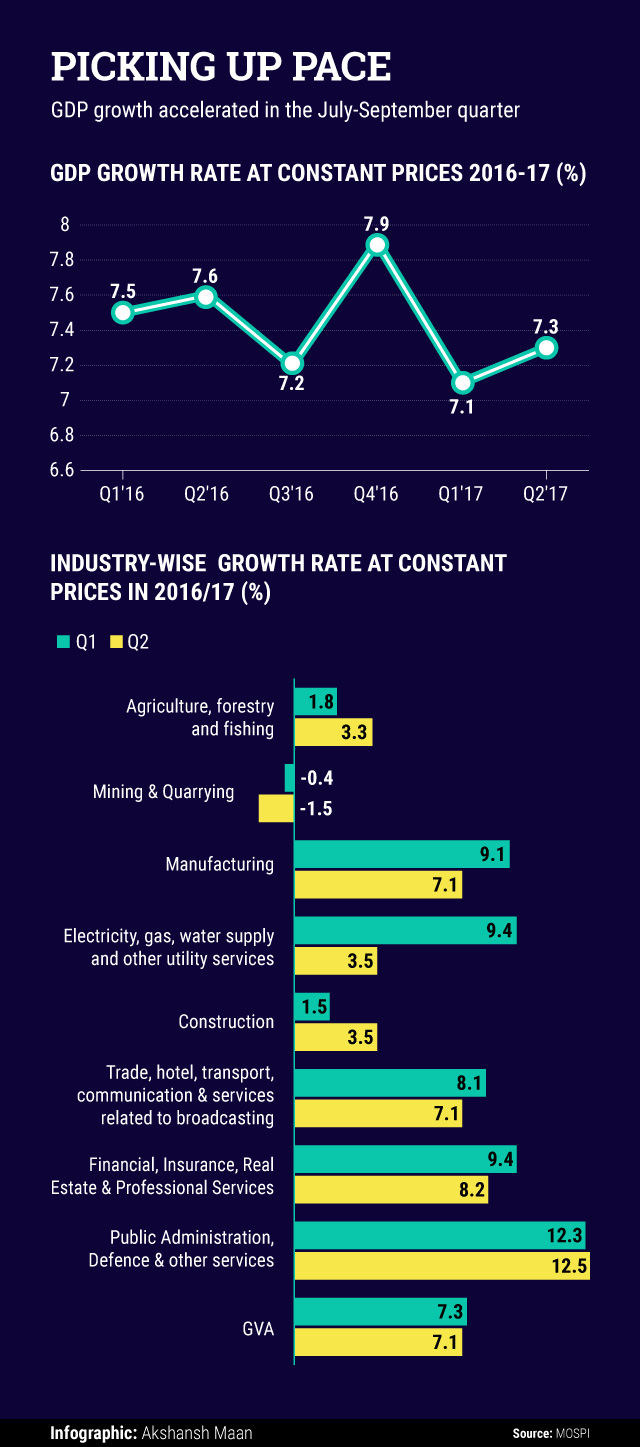 Still, India remains the world's fastest-expanding major economy. China's economy—the world's second-largest and for long the fastest-growing—grew 6.7% in July-September, the slowest pace in seven years.
However, it may be too early to rejoice as several economists and analysts have warned that growth could take a hit in the current quarter and the next due to Prime Minister Narendra Modi-led government's shock decision on 8 November to scrap high-value currency notes. The move was aimed at combating graft, forgery and tax evasion, but it has led to a severe cash crunch in the economy, hurting several sectors and private consumption. 
Fitch Ratings has lowered India's GDP growth forecast for this fiscal year to 6.9% from its previous projection of 7.4% due to "temporary disruptions" to economic activity after demonetisation. Deutsche Bank is even more pessimistic; it expects full-year growth at 6.5%.
While the statistics office's data showed growth in the headline number, it pointed to some worrying trends as well. 
Growth in public spending, which had been buoying the economy, slowed to 15.2% in the second quarter from about 19% in the April-June period. Private consumption grew an annual 7.6% from 6.7%.
Gross fixed capital formation, which indicates creation of productive assets such as manufacturing units, fell 5.6% during the second quarter. 
The data underlines the difficulties ahead for the government to exceed last financial year's GDP growth of 7.6% or even meet this year's target; the government said in February it expected growth for 2016-17 to be between 7% and 7.75%.
Like this report? Sign up for our daily newsletter to get our top reports.