The Indian Angel Network (IAN) will fund at least as many startups this financial year as it did last year and may even exceed the number, president Padmaja Ruparel said.
The country's largest group of angel investors has so far this year surpassed last year's deal-making pace. It sealed one funding deal in less than a week, on average, in the first two months of the financial year 2016-17 compared with one in almost 10 days the whole of last year.
Going by the current pace, the angel network may strike nearly twice as many deals this year than in the last financial year. This conforms to the broader trend that early-stage funding – seed, angel and Series A rounds with small ticket size – is still robust while VC firms active in the mid-to-late stage venture funding cycle have tightened their purse strings.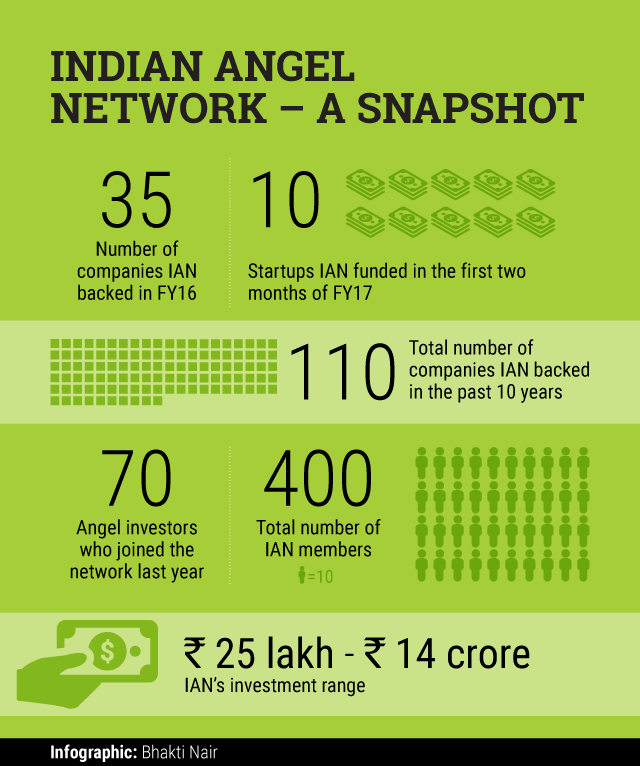 Early-stage funding in the beginning of 2016 had shown an uptick, indicating that the angel and seed-stage investments have kept the initial cheques coming for startups.  Based on the deal activity in the first quarter of 2016, VCCEdge's Startup India report estimated in late April that close to 1,000 Indian startups may get funded in 2016.
The fund crunch for startups at later stages comes as investors turn their focus on profitability instead of rapid growth. This has led to a correction in the valuation of startups, helping early-stage investors to strike more deals with relatively less capital.
Another seed-stage investor that plans to seal more deals is Axilor Venture. The firm's co-founder Kris Gopalakrishnan told VCCircle recently that the firm would invest in more startups in the range of Rs 25 lakh as valuations had become comparatively rational.
Ruparel also said that about 22% of the network's portfolio companies gave 5X returns while 10% companies failed. "Our portfolio has given us 44% IRR," she added, referring to internal rate of return.
The IAN, which completes a decade this year, has funded startups including Paytunes, 6Degree, Little Black Book and Toko Innovation in the last two months. Online homestay platform Stayzilla, customer engagement tool provider Webengage, QSR chain Wow! Momo and enterprise IT company Orangescape are some other companies in the IAN's portfolio.
The IAN has backed early-stage ventures in 17 sectors including consumer Internet, semiconductor, medical devices and hospitality. Apart from India, it has also funded startups in the US, the UK, Canada, Sri Lanka, France and Singapore, Ruparel said.
The network's member base expanded by a fifth last year. It opened a centre in London and has members from 10 countries. "We have been reached out to start centres in the US, Singapore and Israel. We are thinking through the proposals," Ruparel said.
Like this report? Sign up for our daily newsletter to get our top reports.