Five Indian blue-chip companies have driven 97 percent of the stock market's rise to record highs this year, and analysts reckon uncertainty heading into next year's general elections will keep the rally in the months ahead just as narrowly focused.
India's broader NSE index has been hitting successive record highs during the past couple months even as worries over the Sino-U.S. trade war dragged other major stock markets down. It is up 10 percent so far in 2018.
The BSE index is Asia's top performer for the year, even in dollar terms after accounting for the rupee's nearly 9 percent decline.
Yet, a handful of companies led by the country's biggest software services firm Tata Consultancy Services Ltd have led that rise in share prices.
Top contributors to NSE Index's gain this year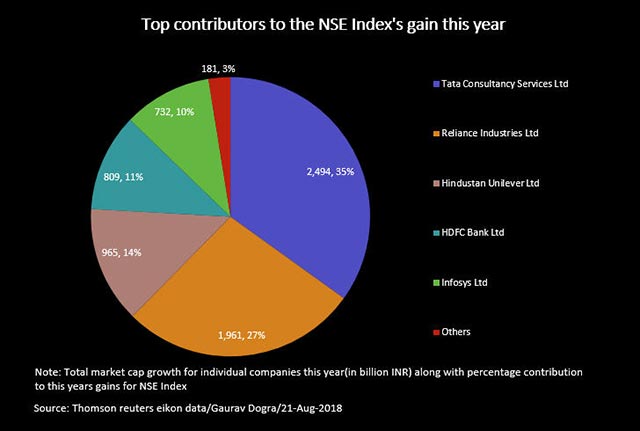 TCS has been responsible for 35 percent of the rise in the NSE index this year. It became the first Indian tech company to hit the $100 billion mark in April and its recent quarterly earnings beat expectations.
Reliance Industries Ltd became the first Indian company to cross 8 trillion rupees ($114.14 billion) in market capitalisation on Thursday. This comes shortly after its valuation hit $100 billion in July.
Reliance posted a record profit in the March quarter. It contributed 27 percent to the Nifty's rise this year.
Analysts believe the top 10 shares by market value will continue to outperform and lead the Indian index, given the backdrop of a weaker rupee and their stronger earnings growth.
The rupee hit an all-time low of 70.40 against the dollar last week.
The currency weakness and the upcoming general elections are expected to keep the markets volatile and force investors into seeking safer blue-chip companies.
"In an election year, investors would obviously stay safe, so they are in large caps," said Deven Choksey, founder, KR Choksey Investment Managers. "The names of biggest contributors might change, but the good quality large cap companies would perform better."
Profit growth at Indian firms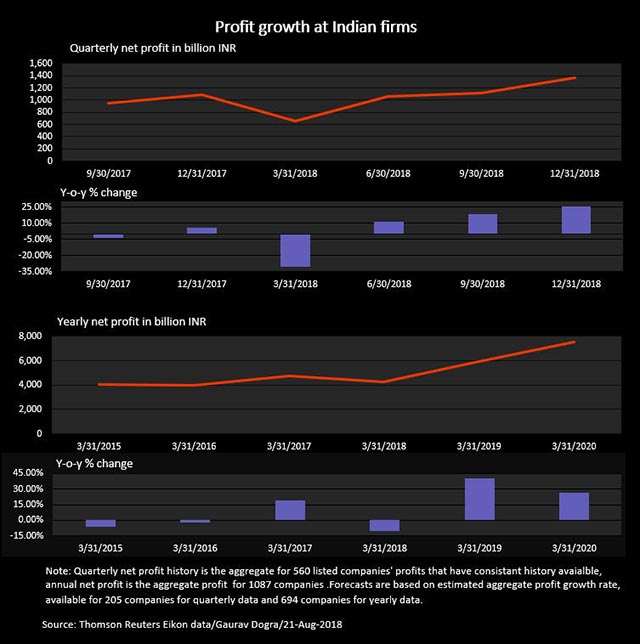 Indian companies reported a 11.6 percent annual increase in profits for the June 2018 quarter, their strongest growth in five quarters, according to data for 560 listed Indian companies. That double digit profit growth comes at a time when Asian peers, such as South Korea and Singapore, missed estimates and reported declining profits.
Nearly 52 percent of 430 companies with I/B/E/S estimates available for the April-to-June quarter met or even beat analyst estimates. More than half of the companies missed analyst estimates in the quarters ending March 2018 and December 2017.
Gautam Chhaochharia, head of India Research at UBS, said the rally in the top 10 firms had largely to do with the strength in earnings. "It's about markets sticking to visible growth," he said.
India's NSE companies PE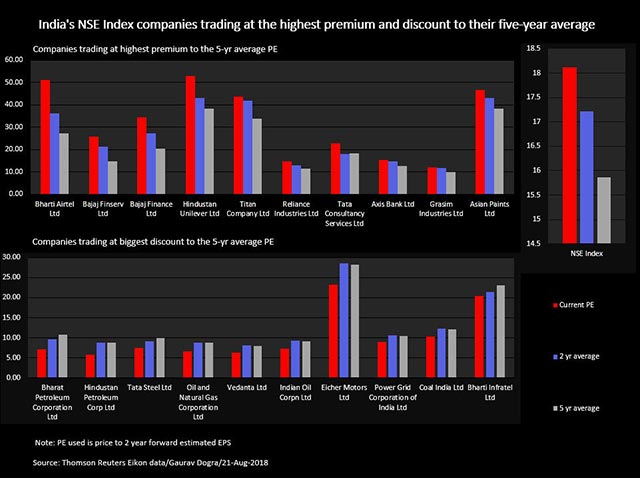 While TCS trades at a price to two-year forward earnings ratio of 22.58, Reliance Industries is at 14.72. Hindustan Unilever Ltd, HDFC Bank Ltd and Infosys Ltd are the other top contributors to the Nifty's rise so far.