The winter session of the Parliament will start on Thursday and the government has started reaching out to the Opposition parties to clear the logjam in passing the crucial Goods and Services Tax Bill. 
While there are labour reforms and other important legislations on the government's agenda, GST will be crucial for NDA as it intends to implement the new tax regime from April 2016. Parliamentary affairs minister M Venkaiah Naidu on Wednesday said 38 bills will be passed during the session of which 22 will be done on a priority basis.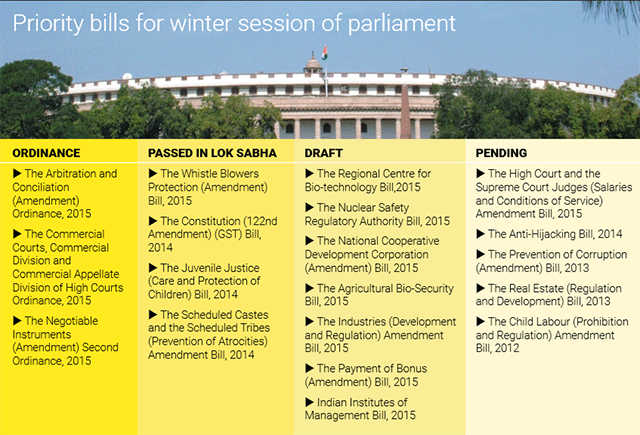 In fact, Prime Minister Narendra Modi in a recent visit to Singapore assured investors that his government will roll out GST in time but the road ahead for the government seems to be strewn with challenges. The prime minister stressed on the need for all parties to work together at the meeting of leaders of all parties and groups in both houses of Parliament on Wednesday. "There is a need for all political parties to work together to enable the Parliament function to the expectations of the people of the country," he said. 
With Finance Minister Arun Jaitley terming some of the demands by the Opposition as damaging, the bill may not see the light of the day until the budget session which will be too late for the government.
"FM's confrontational speech at ASSOCHAM not the best way to reach out to Opposition on GST," P Chidambaram, who was finance minister during the previous UPA government, tweeted on Wednesday.
While the government had introduced a slew of reforms relaxing norms for FDI in the country after a drubbing in Bihar polls , investors are still wary that the government may not be able to implement its development agenda given its minority status in Rajya Sabha.
The rate problem
If the bill does clear both the houses, another issue for the government will be balancing the expectations on the rate for GST. While many are considering 18 per cent as a revenue neutral rate for the government, there have been reports of the rate being as high as 24 per cent.
Another closely watched event by the markets will be the report by the panel headed by Chief Economic Advisor Arvind Subramanian on GST which will be made public next week.
While GST is just one piece of the puzzle, labour reforms are much more controversial as the government plans to alter archaic labour laws. With the Opposition already terming the government as corporate-friendly and anti-farmer, NDA will have to tread cautiously.