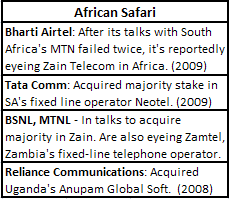 Indian telecom players are Africa-bound. The telecom arm of Essar group has expanded its footprint in the continent by picking up a majority stake in Warid Telecom Congo and Warid Telecom Uganda, owned by Dhabi Group of the UAE.
This deal comes a month after the mega merger talks between Indian major Bharti Airtel and South Africa's MTN fell through.
Though the deal size was not disclosed, the enterprise valuation of the Uganda and Congo operations is collectively pegged at $318 million. Essar already holds a majority stake in Kenya-based Econet Wireless International (EWI). Essar Telecom Kenya, which operates through 'yu' brand, has 600,000 subscribers and claims to be one of the fastest growing telcos in that country.
"This (deal) is in line with Essar's plan to be a part of the growing telecom market in Africa," said Prashant Ruia, Group Chief Executive, Essar Group, in a release. Essar will invest growth capital into both telecom operations in network expansion and marketing. The agreements were signed by both the groups in Abu Dhabi today.
Essar, which owns 33% stake in India's third largest telecom firm Vodafone Essar, had announced in July that it has entered into exclusive talks with Dhabi Group. Essar also indirectly holds a 10% stake in Loop Telecom, which has recently started rolling out operations in India. Essar Telecom Kenya has also attracted an investment of $93.75 from by the Pan African Infrastructure Development Fund (PAIDF), a leading PE investor in African infrastructure projects, the statement said.
Standard Chartered Bank acted as exclusive financial advisor to the Dhabi Group. The Dhabi Group transaction is subject to regulatory approvals in Uganda and Republic of Congo. Warid Telecom also has operations in Pakistan and Bangladesh.
Africa seems to be the final frontier for many Indian telcos as they look for growth outside the country. With nearly half a dozen new players entering the Indian market and the tariff war intensifying among existing players, markets like Africa present a huge opportunity.
Most of the telcos have made their presence felt in the continent but are now looking for larger deals. India's largest telco Bharti Airtel, which was in talks with South Africa's MTN for a $23 billion deal, is still keen to acquire assets. State-run mobile telecom operators Mahanagar Telephone Nigam Ltd and Bharat Sanchar Nigam Ltd are also in talks to buy assets in Africa.
Tata Communications is a controlling shareholder in South-Africa based fixed-line operator Neotel. Last year, Reliance Communications also bought Uganda-based Anupam Global Soft, which has licences to offer mobile, fixed line, internet, national and international long distance services in the country.