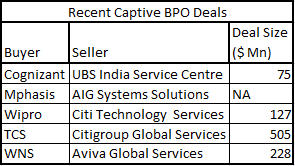 Nasdaq-listed IT company Cognizant Technology Solutions has snapped up the Indian captive outsourcing unit of Swiss banking major UBS for $75 million. The acquisition will be funded from the company's current cash reserves. Others like Genpact, Wipro and Infosys were also reported to be in the race.
Both companies have also entered into a five-year service agreement, under which Cognizant stands to earn revenue of $442 million, the IT firm, which has a huge presence in India, said in its filing with the US SEC.  Cognizant will provide BPO, KPO, IT, and remote infrastructure management services to UBS. UBS also has a similar but smaller center in Poland, which is not part of this deal.
The Coginzant-UBS deal continues in line with the trend of captives of banking and financial services firms being taken over by IT services providers. The deal would be the fifth such in recent times (see table). The biggest transaction was the acquisition of Citigroup Global Services by TCS for $505 million in October last year. Acquiring captives help service provider build scale and revenues at a time when new costumers are hard to come by. Such deals also help get industry specific capabilities.
Also the balance of negotiations is expected to go in favour of service providers with growing maturation of the third party outsourcing industry in general and coverage of specific industry in general, said Siddharth Pai, managing director of outsourcing advisory firm TPI's India unit in a research note last year.
The UBS India Service Centre Pvt Ltd, located in Hyderabad, has 2,000 employees, two-thirds of whom are engaged in KPO/BPO services. The deal is expected to close in December 2009.
This would be one of Cognizant bigger acquisitions. In September, the company acquired the assets of Pepperweed Advisors, the IT consulting services division of Pepperweed Consulting.
In its biggest acquisition deal, Cognizant acquired marketRx Inc., which helps improve marketing performance of pharmaceutical companies, for $135 million in 2007.
Cognizant is said to have a war chest of $1.2 billion and seems to be ready for more acquisitions. "We have always been open to acquisitions - whether its full fledged, or captive or even partnership agreements," said a Cognizant spokesperson. Cognizant saw a revenue growth of 32% in calendar year 2008 from $2.13 billion to $2.81 billion.
Besides revenues from UBS, the deal will also strengthen the global footprint of Cognizant. Around 50% of the UBS ISC comes from Europe and rest from US and Asia Pacific, said the spokesperson.
The deal also gives the US-listed firm a core BPO platform for services in investment banking, wealth management and asset management, among others.