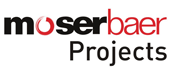 In its second deal in power sector in as many months, private equity major Blackstone is investing $300 million or Rs 1,350 crore in Moser Baer Projects Pvt Ltd. The company is into development of power generation facilities with assets in thermal, solar and hydroelectric power. New Delhi-based Moser Baer Projects plans to commission 5,000 MW by 2016 comprising of 4,000 MW of thermal, 500 MW of solar and 500 MW of hydro capacity. The PE firm is taking a significant minority stake in Moser Baer Projects.
The deal follows Blackstone's Rs 275 crore (approximately $60 million) investment for a 12.5% equity stake in Monnet Power Company, which is developing a 1,050 MW coal fired power plant. The deal is also the largest by the private equity major since it made its first investment in India in 2006. Blackstone largest deal till now was the $260 million buyout of outsourcing services provider Intelenet Global Services in 2007.
Moser Baer Projects has been founded by Deepak Puri & Ratul Puri, the promoters of Moser Baer India Limited, the world's second-largest manufacturer of optical media. Its most advanced thermal power plant is based in Madhya Pradesh and has already achieved financial closure and acquired fuel linkage. Moser Baer Projects has multiple solar projects in advanced stages of construction in India, while its first solar project outside India was completed in December, 2009 in Nordendorf, Germany.
"Energy sector is an attractive long term investment destination. We believe that an enabling regulatory environment will facilitate greater private sector participation and will pave way for significant capacity addition to the languishing energy infrastructure in the  country," said Ratul Puri, Director of Moser Baer Projects.
The Moser Baer group has been able to generate significant private equity funding for its various businesses. In 2004, Moser Baer India raised $149 million from private equity major Warburg Pincus, who till date holds a considerable stake in the firm. Moser Baer Photovoltaic, which manufactures photovoltaic cells and modules for residential, commercial, and industrial applications, has also raised nearly $200 million in private equity funding across two rounds. Investors include IDFC Private Equity, CDC Group plc, Nomura Holdings Inc., Credit Suisse Group and Morgan Stanley.
"Infrastructure development continues to remain one of our key investment themes in India. We believe that they (Moser Baer Projects) have one of the best management teams in the sector and an enviable track record of completing large projects on schedule and on budget. In addition, their strategy of developing assets across multiple fuel sources is compelling. We look forward to help them replicate their success as a manufacturer of optical media and solar panels in building one of India's leading power companies," said Akhil Gupta, Chairman and Managing Director of Blackstone Advisors India.
Edelweiss acted as the exclusive financial advisor to Moser Baer Projects on the transaction. "The accelerated development of India's Infrastructure industry in general and the power sector in particular is a pre-requisite for unlocking our country's economic potential and availability of growth capital will remain essential to enable this development," said Venkat Ramaswamy, Executive Director, Edelweiss Group.
Power generation players have attracted significant capital from private equity players this calendar year, accounting for nearly a fifth of deal value. Electric utilities companies raised $943 billion across 12 deals in the first seven months (till July end) while overall PE inflows stood at $5.1 billion for the same period, according to VCCEdge.
Some of the largest deals include $425 million in Asian Genco by a consortium led by Morgan Stanley Infrastructure Partners and $305 million fundraise by GMR Energy from Temasek, IDFC Private Equity, Ascent Capital and others.