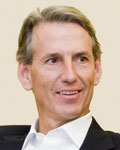 India is a key market for us and we will continue to hold minority positions in companies here, said John Megrue Jr., the CEO of Apax Partners US, at the Wharton PE and VC Conference, 2010. Apax has invested in Apollo Hospitals Enterprises in India. Funds advised by Apax Partners ('Apax Funds') typically invest in companies with a value of between €1billion and €5 billion. Megrue is an active board member of the following Apax portfolio companies: Bob's Discount Furniture, Tommy Hilfiger Corp, MagnaCare, Rue21, Voyager Healthcare.
n
Excerpts from Megrue's thoughts on the PE industry:-
A correction would come about in the PE industry: During 1982-1985, the number of funds reduced from say 800 to 400. It might not be a half-sized reduction now but definitely we will see some correction. Also, governance will bring about returns and value in companies. The speed of decision-making will be moderate and hence better decisions on value accretions. It is very crucial to take care of management incentives and encourage them to be more opportunity-seeking and promote reinvestment in growth.
n
80s/90s Versus Now: The due-diligence has certainly increased by three to four times.  Independent contractors such as lawyers and individual specialists were more common but now institutional power has taken over. The LPs have now become more sophisticated. From being more relationship-driven earlier, they are now more focused on doing an intensive homework themselves. Back auditing process has increased tremendously.
n
Defining trends in the future: For the next decade, the buzzword will be "value-added". Increasingly, ex-CEOs, CFOs and professionals with operational experience have been hired by the industry which helps in the difference between saying no and saying no quickly. Going forward, sector expertise will be very critical. Not only can sector expertise help in identifying investments but also, post investment, help the firm in making choices for strategies, identifying the best-fit consultants, lawyers and other assistance services. We need to re-think of businesses from the stand point of value addition and not just raw capitalism.
 Apax strategy for India: We are not considering buyouts as the strategy going forward and our strategy is to hold minority positions in value companies. Our target has been to be, on an average, investing in one company for at least three years in India. The last investment we made was in the Apollo Hospitals Enterprise. We find Indian entrepreneurs to be very talented and most enthusiastic in nature. India is definitely an exciting market for us right now.
n
n
Vashistha Maheshwari is an MBA student at Indian School of Business and is currently undergoing an exchange programme at The Wharton School, University of Pennsylvania. He also contributes articles to VCCircle.