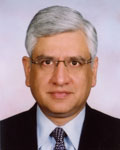 Dalip Pathak, who manages the Warburg Pincus London office and is responsible for the firm's investment activities in Europe and India, says, India continues to be the firm's prime market. Prior to joining Warburg Pincus in 1994, he was Chief of Mission at the International Finance Corporation (World Bank Group) in Thailand.  The private equity biggie identified and believed in Bharti Airtel in the early days of 1998-1999, much ahead of the telecom revolution. It certainly made a killing in the company, which is now among the top ten companies by market cap in the country. VCCircle brings to you excerpts from Pathak's keynote address at the Wharton Private Equity and Venture Capital Conference, 2010.
Focus on upside-oriented business
:  In the post-crisis scenario, the three things that will gain importance are liquidity, management and a focus on upside-oriented businesses. The strength of management is critical to any firm's business and, more so, after the crisis for rebuilding and reorganizing a firm.
Hedging against a 'black swannish' event is the smart thing to do:
  Management is key. Good managers can go a long way in withstanding a crisis situation and can adequately gear up for the potential upswing. Unpredictable events occur every now and then and hence hedging against a "black swannish" event is the smart thing to do. Stress testing of balance sheets for nightmare scenarios should be a critical component of investment appraisals. It pays to be disciplined when  markets feel choppy and investigate the exit opportunity when appropriate.
PE deals might contract in the short term
:  In the post-crisis world, the PE deals might contract in the short term. Survivors in this market will be much better companies and this downturn would, in fact, result in enhancing the quality of PE industry. The firm (Warburg) is looking at follow-on investments in investee companies. We are even looking at picking up minority stakes in promising companies.
Eyeing India's Next Bharti?
: We continue to be focused on India as a prime market. The recent stories in media about us being on the sidelines and pulling out are absolutely wrong. We are in the business of making exits, or else, how do we make money. But that does not mean we are pulling out of the Indian markets. Our strategy in India is to bring about more investments, contribute to the growth, bring about more jobs and development. As for the next "Bharti" in the Indian markets and the sectors we are eyeing, I cannot let that information out due to confidentiality issues.
Vashistha Maheshwari is an MBA student at Indian School of Business and is currently undergoing an exchange programme at The Wharton School, University of Pennsylvania. He also contributes articles to VCCircle.