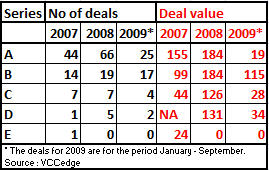 Most classical venture capital firms prefer to become the first institutional investor in a startup. Though risky, funds enter at a lower valuation in the first round, and hope to multiply the value of their investments when the company goes for subsequent rounds of funding or an exit.
So, ideally, VCs' sweet spot has been the first round of investment or Series A. But, if the trend in investment stages is any indication, venture capital funds in India have shown a tendency to shirk risk and go for more established companies or those who are already backed by VCs. Even if it means lower returns, VCs seem to prefer to preserve their capital for now.
According to data compiled by VCCEdge, the financial research platform of VCCircle, a news website tracking the industry, Series B is turning a favoured investment stage while Series A is shrinking in importance.
In the January-September period this year, Series B has kept up the momentum with 17 deals with a disclosed value of more than $130 million. Last year, there were 19 Series B deals with a disclosed value of $184 million, which shot up from 14 deals in 2007 with a disclosed value of $99 million.
The VCs' affinity towards Series B becomes much clearer when one looks at the number of Series A deals during these years. There have been only 25 Series A deals in first nine months of this year with a disclosed value of a mere $19 million (13 deals did not disclose the value of their investments). Compare this with 66 Series A deals of a disclosed value of $184 million in 2008 (about 30-odd deals did not disclose the value of their investments) and 44 Series A transactions in 2007 with roughly half of them declaring $155 million in transaction value. During the three years, there is a significant decline in VC interest first round investing. 
Ashish Gupta,  co-founder & managing director, Helion Venture Partners, reasons: "When markets take a beating, everyone becomes cautious and you look for stuff that is slightly older."
The appetite for risk becomes much lesser when the VCs are under pressure to show not just returns but also the real state of their portfolio.
"The downturn has made VCs realise that companies will take time and (a lot of) capital to scale in India. Companies require a lot of heavy-lifting at the early stages. But VCs have a limited bandwidth to do this," says Mohanjit Jolly, Executive Director - India, Draper Fisher Jurvetson, a Silicon Valley-based early stage venture capital fund. Moreover, limited partners are pushing for a near-time exit horizon. "Even though VCs are not doing exclusively late stage investments, they are balancing out their portfolio with Bs and Cs along with As," Jolly adds.
In fact, a fall-out of this strategy has been that most VC funds have earmarked a part of their fund to make growth capital investments or even launch a separate fund for this. Sequoia Capital India pioneered this concept in India when they launched their first $ 400 million growth fund in 2006. Last year, they came up with another growth fund of $725 million.
Sequoia, which has funded companies like Google and Youtube, now straddles between early stage, late stage, private equity and even pre-IPO and PIPE deals in India. It recently made 2x returns from a $25-$30 million investment in Nasdaq - listed Cognizant Technology Solutions within a timeframe of eight months.
Norwest Venture Partners – another classical VC fund – last year hired an ex-Goldman Sachs investor Sohil Chand to spearhead late-stage investments. It recently picked up 2.11% stake in NSE (National Stock Exchange) for Rs 250 crore and picked up stake from the open market in mobile value added services firm OnMobile.
Accel Partners - which till now has been consistent in its strategy of doing seed/early stage deals in the country – recently added Neeraj Bharadwaj from Apax Partners as its MD to lead its growth equity investing initiative in India.
Suvir Sujan, Co founder, Nexus Venture Partners, said, "there are only a handful of VCs doing early-stage investing in India." But it's a reality that venture firms will do a mix of early, mid or late stage investing. "Most firms will at least balance their portfolios and look at series Bs and Cs in parts if not exclusively late stage. Ours is a balanced portfolio approach, we will do early stage with mid stage, going forward," says Jolly of DFJ.
Also, VCs have turned sector agnostic shifting from pure play technology focused deals to diversified plays like financial services, education and infrastructure enabling sectors. At Series B stage, financial services emerged as the most preferred sector followed by consumer internet and logistics.
Says Jolly: "Our next two investments would be more of mid stage looking at broad spectrum like logistics & distribution, the bottom of pyramid kind of applications, water and microfinance, healthcare and education." VCs think the safe bet is to be stage and sector agnostic.
The fetish to be the first institutional investor in a startup is clearly on the wane.